Brock's CCOVI partners with industry to produce certified clean grapevines

June 19, 2019 – Niagara, Ontario – CCOVI, Brock University

Brock University's Cool Climate Oenology and Viticulture Institute (CCOVI) has partnered with the grape and wine industry to produce certified, clean grapevines.

The Government of Canada recently committed $2.3 million in funding over the next three to support the Canadian Grapevine Certification Network (CGCN) as it develops certified vines for grape growers. As part of the project, CCOVI will be the national testing provider.

"This funding will give nurseries a jump start to providing domestically certified clean plant material to the grower community across Canada and allow the industry to be less reliant on imported material," said CCOVI Director Debbie Inglis. "Nurseries will have the opportunity for lower-cost virus testing by cost sharing with the CGCN. We're looking forward to working closely with the industry to make sure growers are starting out with clean plants to assist the long-term viability of the Canadian grape and wine sectors."

CCOVI will catalogue and assess vines used for plant propagation from nurseries and grape growers across Canada. This will ensure that only vines testing negative for targeted viruses are used to generate new plants receiving the CGCN certification, which will help keep Canada's vineyards virus-free.

"Canada's vineyards have become an important part of our national economy," said Minister of Justice and Attorney General of Canada David Lametti as he announced the government's commitment to the project. "With this funding, the Canadian Grapevine Certification Network will help ensure that growers have access to high-quality, locally-sourced grapevine stock to keep their fields healthy and prosperous."

CGCN Vice Chair and grape grower Bill Schenck said announcement is the next step in the creation of a clean plant network for grapevines in Canada.

"We have been working closely with researchers at CCOVI and this funding will expand what we can do as far as testing our grapevines," he said. "This will allow us to work more closely with nurseries as we try to clean up vines in the ground and help growers plant healthy vineyards."

The CGCN is also leading national research initiatives for grape and wine, receiving funding through Agriculture and Agri-Food Canada (AAFC) and industry partners of more than $11 million last year to establish the Canadian Grape and Wine Science Cluster. The cluster is a collaborative project which includes researchers at Brock and other universities across the country as well as AAFC scientists, grape growers and industry partners in Ontario, B.C., Quebec and Nova Scotia.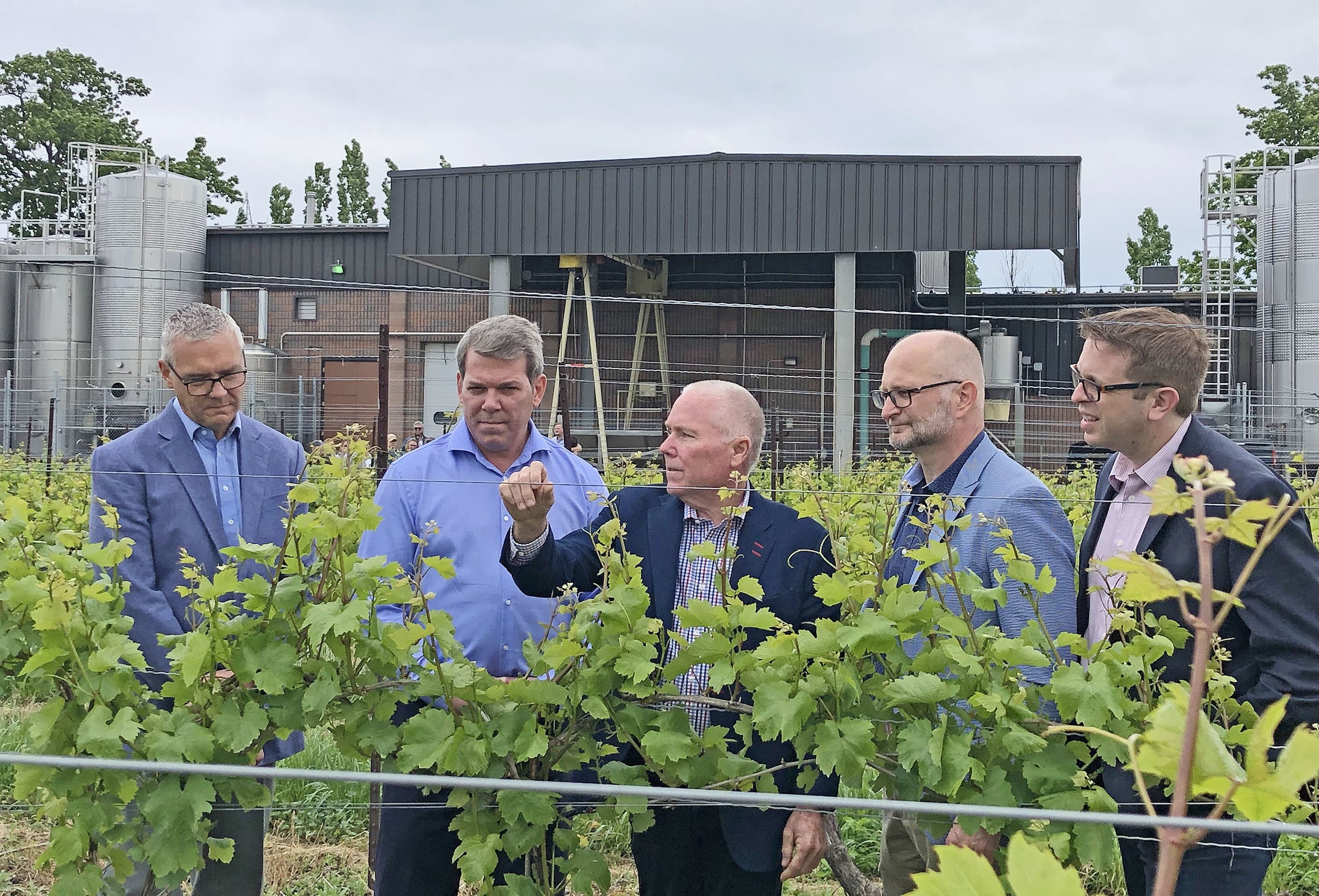 Canadian Grapevine Certification Network Vice Chair and grape grower Bill Schenck (centre) in the vineyard at Konzelmann Estates winery with Jim Reschke, Konzelmann VP Operations (left), MP Vance Badawey, Minister of Justice and Attorney General of Canada, David Lametti and MP Chris Bittle.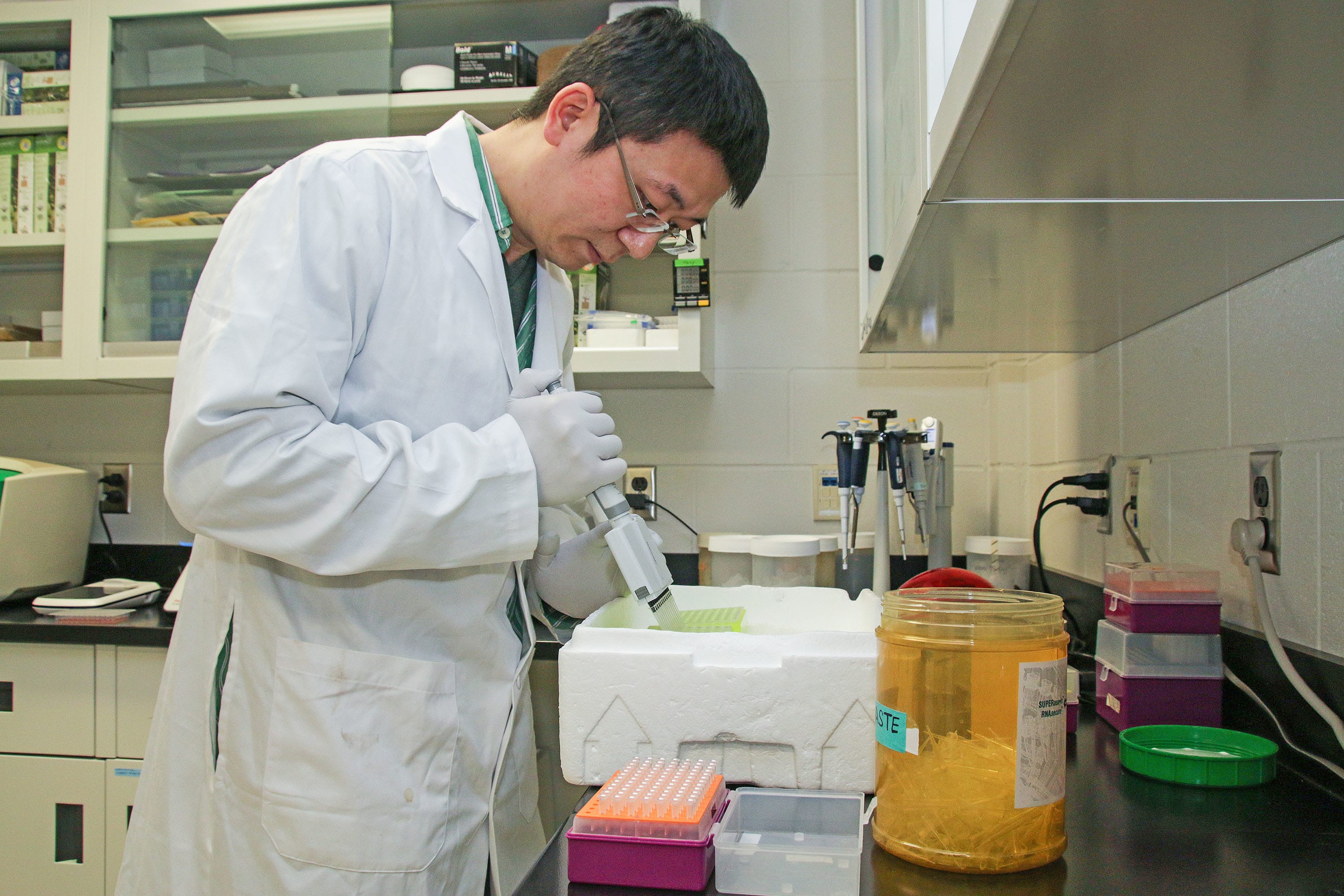 Brock University research assistant Tony Wang performs a grapevine virus test in a Brock CCOVI lab.